(Editor's Note:  This post refers to members of the 2014 NFL Draft class.  For information on NCAA quarterbacks participating in the 2014 season, click here)
Welcome back everyone.  After a hiatus from writing, I'm ready talk football and football analytics once again.  I'm going to start with the obligatory "NCAA Quarterbacks in 2014:  Who to Watch" article.  We'll wander over the NFL at some point, but we'll start in the NCAA.
If you're new the site, you may find something a little weird about how I write about football. My wheelhouse is taking a statistical approach to the game.  I take an almost exclusively analytic approach to evaluating football players.  I don't know the ins and outs of arm angles and footwork and all that.  What I can tell you which quarterbacks and receivers are getting the outcomes that will make them successful at the NFL level.
My primary evaluation tool is to use a statistic I call "Completions Away from Average" or CAA.  This statistic captures the number of completions a theoretically average quarterback would be expected to have given the receivers and offensive system of Team X.  It then compares this theoretical number to the number of completions the actual quarterback of Team X has.  Positive numbers are above average, 0 is perfectly average, and negative numbers are below average.
So let's talk about who I'm looking at this season in the NCAA.
I'm Sold
Keith Price – Washington
Career CAA – 82.904
I'm waiting for the moment when someone on Twitter says, "I'm evaluating Austin Seferian-Jenkins and can't help but notice the quarterback."  But maybe that will never happen.  Maybe Price doesn't quite look the part or something, I don't really know.  The numbers sure like him though.  .
My numbers say that Price is scary good.  Terrifyingly good.  This guy is so good he is literally breaking my scale.  I have data going back to 2007, and only three players; Zac Dysert (91.74), Andew Luck (86.12), and Ryan Aplin (85.40) have more Career Completions Away From Average than Keith Price (82.90) does right now.  And Price has a whole season ahead of him to add to his numbers.
All Keith Price has to do is keep doing what he has done the last two years and he will be my #1 quarterback going into the 2014 draft.
Rakeem Cato – Marshall
Career CAA – 59.486
Another quarterback flying under the radar, Cato has been spectacular in his two seasons at Marshall.  I've seen a little more buzz about Cato than I have about Price, and we'll see where this season goes.  With a current Career CAA of 59.49, he sits head and shoulders above the rest of the NCAA with the exception of Price.
Did it once, let's see it again
These quarterbacks all have one very good season at the FBS level under their belts.  Before I'm sold on these guys, I need to see a little more evidence that they can sustain their current level of productivity.
Brett Hundley – UCLA
Career CAA – 37.180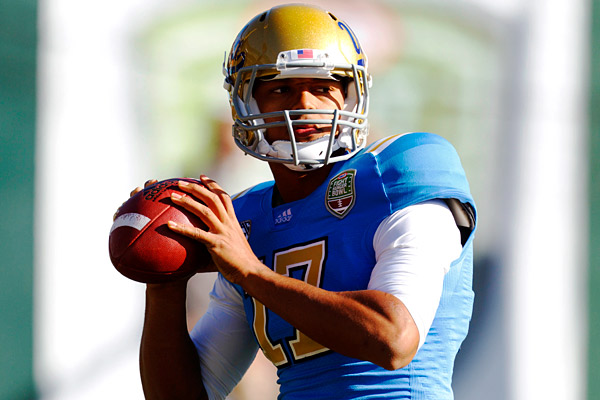 Hundley had the second highest CAA during the 2013 season in FBS football.  Very nice for a freshman in the PAC-12.  The only question for his success at the next level is whether or not he can do it again this year.  I'm very interested to see if he can keep it going.
David Fales – San Jose State
Career CAA – 36.020
Lots of people like David Fales.  Add me to that list.  Just like Hundley, I'd like to see that he can string to successful seasons together in college.
Bo Wallace – Ole Miss
Career CAA – 22.739
Bo Wallace has bounced around a bit looking for an opportunity to play major college football.  Last year, all that bouncing around seems to have paid off as he was the only other first year starter to have more than 20 CAA for the 2013 season.  It will be good to see him in the field again this year, especially with the high expectations for Ole Miss going into this season.
Tricky Business
My final group of quarterbacks presents guys I like, but also question.  There are positives and negatives associated with the numbers each has put up during their careers.
Nathan Scheelhaase – University of Illinois
Career CAA – 35.54
Scheelhaase is an interesting case.  He's had to share playing time throughout his career, which makes it difficult to rack up an excessive number of completions.  His numbers could be suppressed because he was never a fully featured member of the offense.  A second problem is that two thirds of his CAA come from the 2011 season when he had 24.183.  That's a red flag for me because it makes me think that there might be some statistical fluke in the data driving up his numbers.  Much like Ryan Nassib, I want the real Nate Scheelhaase to please stand up.
Cody Fajardo – Nevada
Career CAA – 34.554
This is a case where we have a little bit of some depressed numbers compared to the other quarterbacks on my list, but still puts him in the category of intriguing.  I'm interested in seeing what this guy can do in a more featured leadership role now that he is becoming an upper-classman.
Aaron Murray – Georgia
Career CAA – 33.499
Murray's numbers have always been positive, but they are even more depressed than Cody Fajardo.  He's accumulated just one fewer CAA, but has had three full seasons whereas Fajardo has only had two.  However, he's also improved each of his three years at Georgia.  I don't know what to think of him other than I want to see more.  I currently have him as my #7 quarterback, but let's see what he does this season before going out of our way to recommend him.